APOLLO 270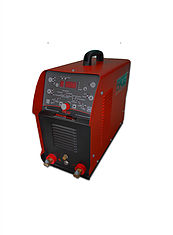 Technical Specifications :
Input Supply :

Max Installed Power :


12KVA / 15.25HP

Current Range :


10-270 Amps

Current @ 60% Duty :


270 Amps

Current @ 100% Duty :


200 Amps

Dimensions :


21.0 x 46.0 x 40.1 cm

Weight :


25Kg
Features :
Apollo Series are the all new Premium Digital Pulse TIG welding power sources powered by the DIGICON Technology.
IGBT based switching technology
In Built High Frequency Unit.
Arc Force and Hot Start are standard features enabling welder more control over weld joint.
Class H type of insulation.
Force Air type cooling.
IP23 type of ingress protection
Input supply + or - 20% fluctuation tolerant.
VRD Voltage Regulatory Device to ensure high welder safety.
Weld-O-Meter feature to measure active welding hours.
10 programmable memories to store 10 presets of welding parameters.
Password Lock feature to prevent manhandling of welding parameters.
Variable TIG Cycle parameter are Preflow time, Postflow Time, Upslope Time and Downslope Time.
Variable Pulse TIG Cycle Parameters are Pulse Frequency and Pulse Time.
OCV is 85Volts for better arc striking.
2Track ,4Track , Special 4Trackand SPOT welding modes.
---