VICTOR 200 Arc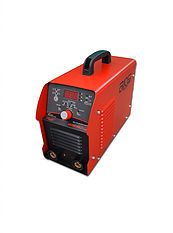 Technical Specifications :
Input Supply :

Max Installed Power :


6.9KVA / 8.75HP

Current Range :


10-200 Amps

Current @ 60% Duty :


200 Amps

Current @ 100% Duty :


130 Amps

Dimensions :


15.5 x 38.9 x 23.8 cm

Weight :


9Kg
Features:
Victor Series is all new PULSE ARC welding power sources.
IGBT based switching technology
Arc Force and Hot Start are standard features enabling welder more control over weld joint.
Class H type of insulation.
Force Air type cooling.
IP21 type of ingress protection
Input supply + or - 20% fluctuation tolerant.
VRD Voltage Regulatory Device to ensure high welder safety.
OCV is 90Volts for cellulosic electrodes and better arc striking.
Pulse Arc Frequency is adjustable from 0.1 to 10.0 Hz with fixed 50 pulse time.
---